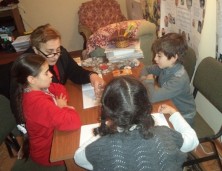 In April, in 6 IDP collective centers 6 informational-consultative meetings were held, with participation of 49 women from 20 to 68 years old. 4 sessions of family therapy was held, 3 phone calls were made.
Group meetings continued the issues of previous ones – fear of the women, alarm, phobias, panic. The researches prove that the women have more phobias and fears in comparison with the men. But it is no use of fighting with the fear. The fear is not enemy, it warns. If you study and understand the fear, it may become necessary and important partner on the way to development.
Meeting participants were given recommendation papers.
The project is implemented with the support of the organization Brot
für die Welt – Evangelischer Entwicklunsdienst (Germany)