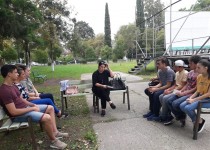 In the Youth clubs of the Fund "Sukhumi" three more groups are selected for a five-month course - this time in Kutaisi, Poti and Teklati (Senaki municipality). Informational meetings were held with the pupils on the topic: "Gender violence, types, forms, reasons, mechanisms of protection for the prevention of violence".
Young people got acquainted with the specifics of the club, with topics on which they will work for 5 months. They actively joined the discussion of the first topic. We talked about traditions, early marriages, the attitude of the older generation to the problem of violence, ways of getting out and mechanisms for protection.
According to the participants of the meeting, the club discusses important and necessary topics, so they expressed a desire to become the club members.
The project is implemented with the support of the organization Brot
für die Welt – Evangelischer Entwicklunsdienst (Germany)