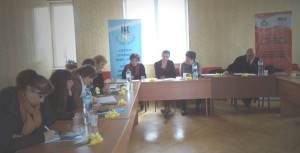 Round table, devoted to the Women's Solidarity Day was held in Sakrebulo conference hall of Tskaltubo. It was attended by representatives of Gamgeoba, Sakrebulo, media and NGO sectors, activist women.
Participants of the meeting received information about Women's Solidarity Day and also about successful women, they learned results and future plans of Tskaltubo WSC.
During round table, problems of victim women's social rehabilitation and informing of the women residing in the village was revealed.
The project is implemented with the support of the organization Brot
für die Welt – Evangelischer Entwicklunsdienst (Germany)