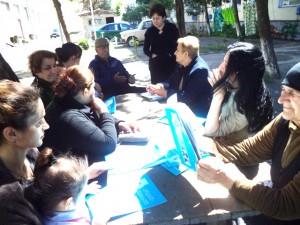 7 informational – consultative group psychological meetings were held in Kutaisi, in IDP collective centers. The meeting was attended by 51 women at age of 20-68.
The main topic was "Models of family communications". They learned main principles of correct listening:
- Don't interrupt
- Avoid annoying things – put the book aside and turn off TV
- Create visual contact
- Answer verbally and nonverbally. Show that you are listening actively and attentively.
The project is implemented with the support of the organization Brot
für die Welt – Evangelischer Entwicklunsdienst (Germany)