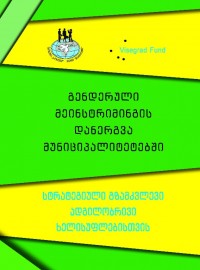 "Gender mainstreaming in municipalities – strategic guidance for local self-government – is the title of a new publication of Fund "Sukhumi". It includes experts' opinions and recommendations, collected from experiences of Georgia, including Abkhazia and Visegrad countries (Hungary, Poland, Czech Republic, Slovakia).
The guidance is a methodical manual which will held local self-governments in incorporation of gender oriented policy. It includes the list of issues that are important for gender mainstreaming at local level.
The publication was developed within the framework of the project "Learning from the experience of Visegrad 4 to advocate for equal, inclusive and democratic local governance".
The project is implemented with the support of the Visegrad Fund